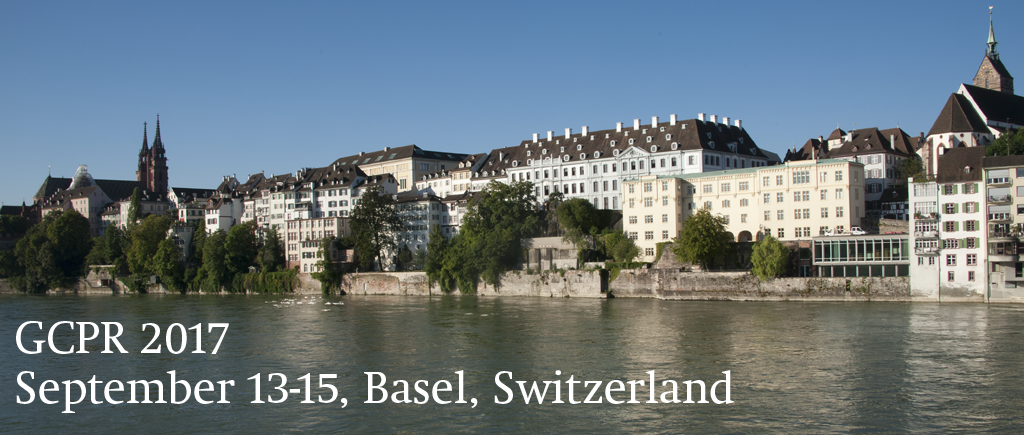 Following the tradition of DAGM, GCPR 2017 will again host a Young Researchers Forum (YRF) dedicated to the presentation of outstanding achievements during Bachelor's, Master's or Diploma studies. The forum provides an opportunity for young researchers to present their research, form new connections and build a community.
A Best Master's Thesis award is presented and a limited number of student travel grants are available.
500 Euro Best Master's Thesis Award
Young researchers that have received their Master's degree after March 7, 2016, are encouraged to submit a full GCPR submission based on their Master's thesis. The submission should be marked as "yrf-submission". The young researcher should be the first author, however, co-authorship of supervisors is allowed. The best submission will be honored with the 500 Euro Best Master's Thesis award during GCPR 2017.
Please visit the DAGM website for detailed information on requirements and submission details.
YRF Student Travel Grants
The DAGM supports excellent students with an affinity to the research fields of the DAGM to attend the conference. Students that have already received their Bachelor's degree and Master students that have not yet finished their thesis are encouraged to apply for a travel grant. The successful applicants will receive travel funds of up to 500 Euro and free access to the conference. Applications must be received by June 15th, 2017 by email to yrf[at]dagm.de.
Please visit the DAGM website for details on application.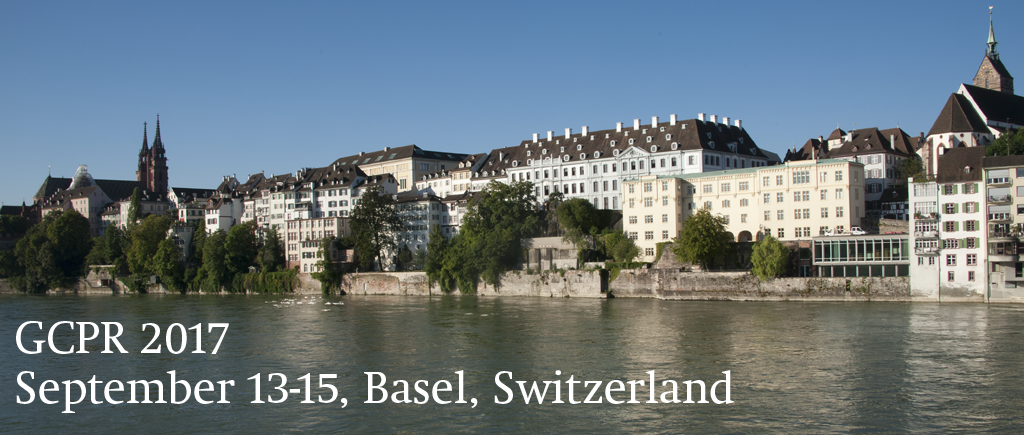 Coming soon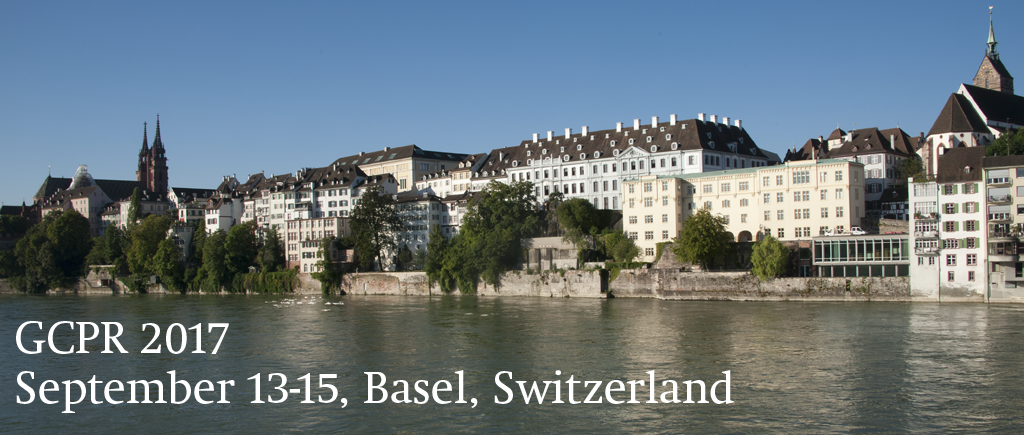 Session 1: Interpretable Machine Learning
Wojciech Samek , Fraunhofer Institute for Telecommunications, Berlin & Klaus-R. Müller, TU Berlin, Germany
09:00 – 10:30 Part I
10:30 – 11:00 Coffee Break
11:00 – 12:30 Part II
Session 2: Medical Image Analysis
Thomas Fuchs, Memorial Sloan Kettering Cancer Center, New York (Part I)
Marcel Lüthi, University of Basel, Switzerland (Part II)
14:00 – 15:30 Part I
15:30 – 16:00 Coffee Break
16:00 – 17:30 Part II: Gaussian Processes Models for Surface and Image Registration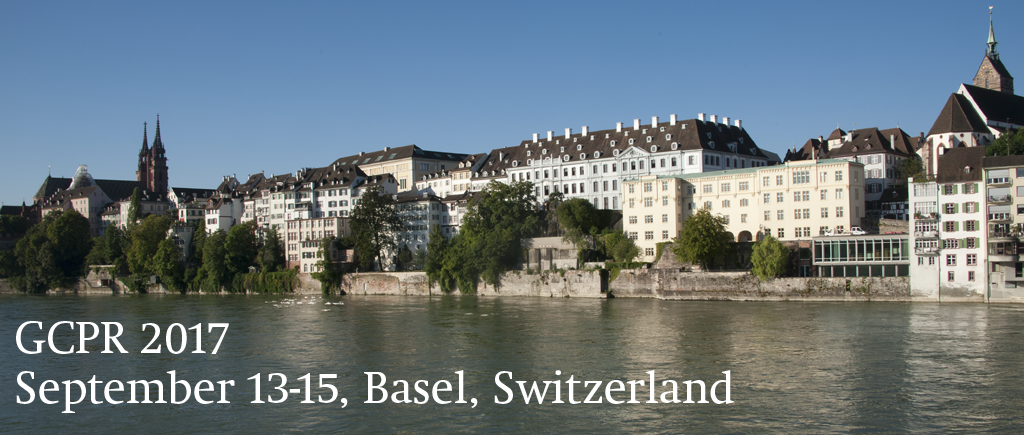 Prof. Dr. Kilian Q. Weinberger
Cornell University, Ithaca, USA
Kilian Weinberger's research focuses on Machine Learning and its applications. In particular, he focuses on learning under resource constraints, metric learning, machine learned web-search ranking, computer vision and deep learning. Read more
Prof. Dr. Pietro Perona
California Institute of Technology, Pasadena, USA
Professor Perona's research focusses on vision: how do we see and how can we build machines that see.
Professor Perona has been mostly active in the area of visual recognition, more specifically visual categorization. He is studying how machines can learn to recognize frogs, cars, faces and trees with minimal human supervision, and how one could make large image collections and even the web searchable by image content. Read more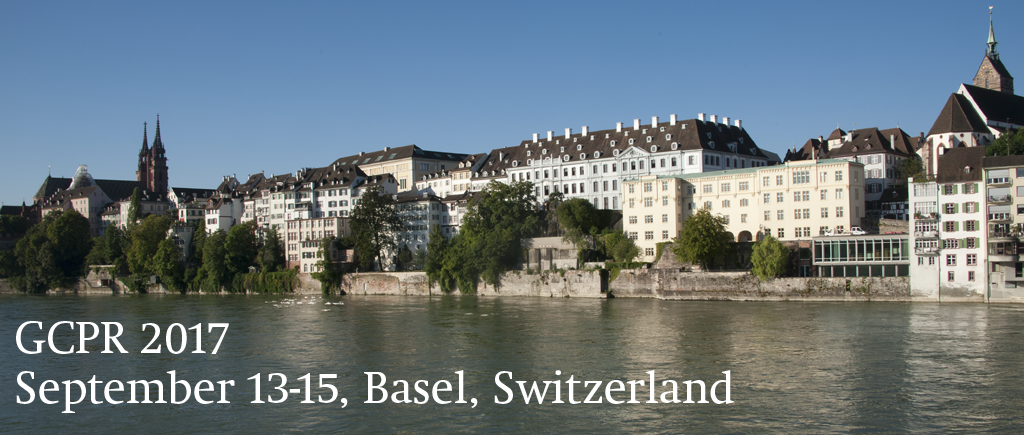 As visa requirements vary for each country, please contact the nearest Swiss Embassy, Consulate or travel agency for more information. If you do not fly directly to Switzerland, please note that a transit visa might be required for some countries in order to continue your travel to Switzerland.

If a letter of invitation is needed for the visa application, the conference office can send this upon request. Please note: Visa invitation letters will only be issued after payment of the conference registration fees. There will be no reimbursement of the conference fees for any cancellations received after issuance of a visa invitation letter. 
Find the contact information of the Swiss Consulate in charge of your visa here​.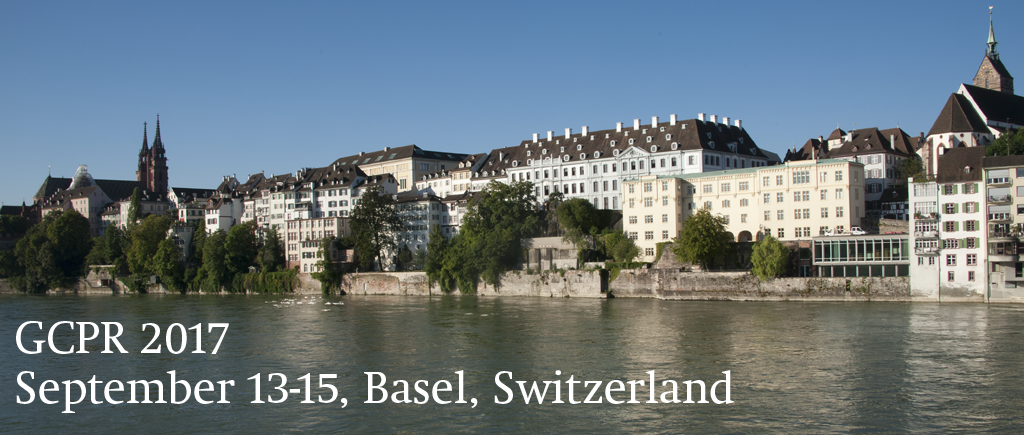 By Plane
Basel can be reached by plane, by either flying directly to Basel EuroAirport or to Zurich (1 hour train ride to Basel).
By Train
Basel can easily be reached by train. Please check the SBB website for timetables and additional information.
Mobility Ticket
Visitors staying at a hotel in Basel receive a Mobility Ticket when checking in. It enables guests to use public transport in the city of Basel and its surroundings free of charge (zones 10, 11, 13 and 15, including EuroAirport) for the duration of their stay (max. 30 days). Some hotels issue a room reservation confirmation stamped with "Mobility Ticket." This entitles the visitor to free transfer from the airport to the hotel.
Getting around
Basel is a congress city with conveniently situated facilities. Travel times are short, and the historic old town, the shopping areas and many museums and parks can be reached comfortably on foot or in a few minutes by public transport.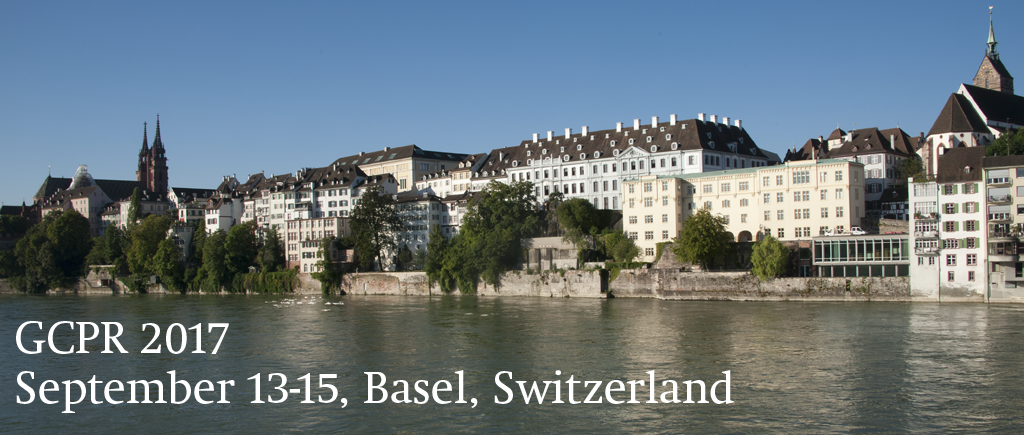 Hotels from which the conference venue can conveniently be reached:
Rochat   Spalentor   Motel One   Bildungszentrum 21   Passage   Teufelhof
Check other options for accomodation in Basel.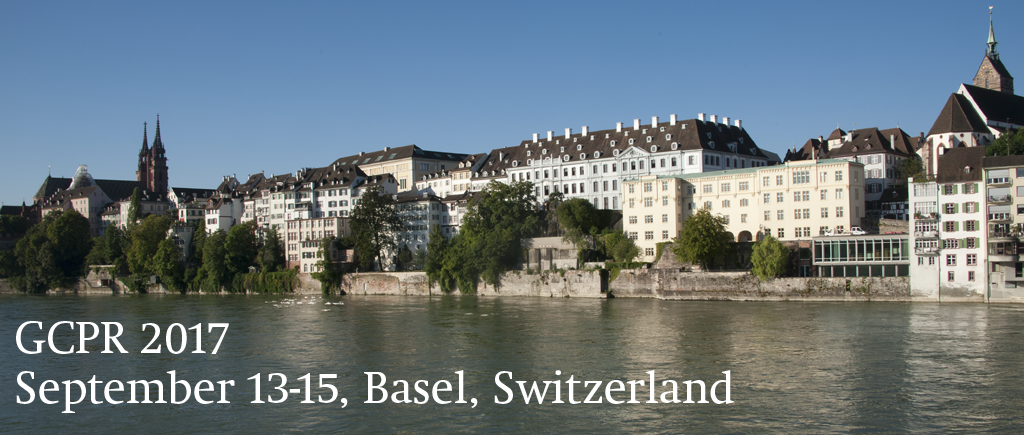 Please use the following template and follow the given instructions for the preparation of your paper.
The paper can be submitted via: Submission
Please ensure that the authors are not visible and that the page limits are strictly kept.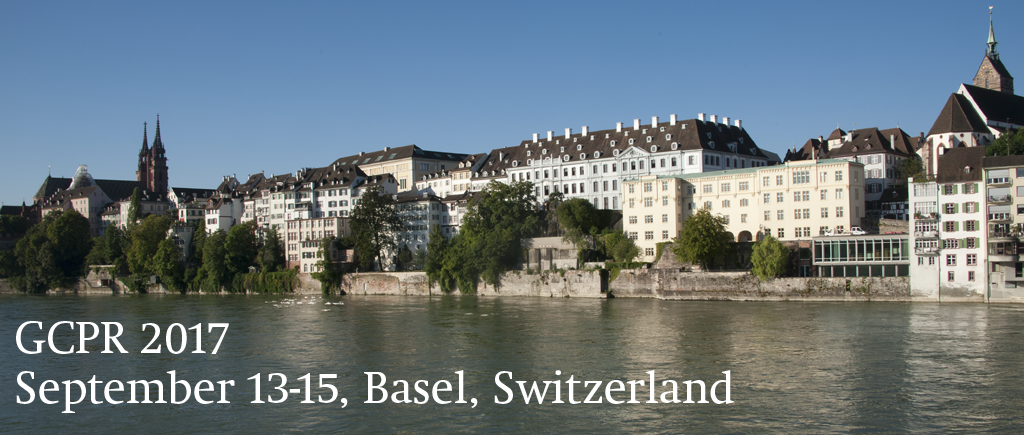 Registration will open in June 2017.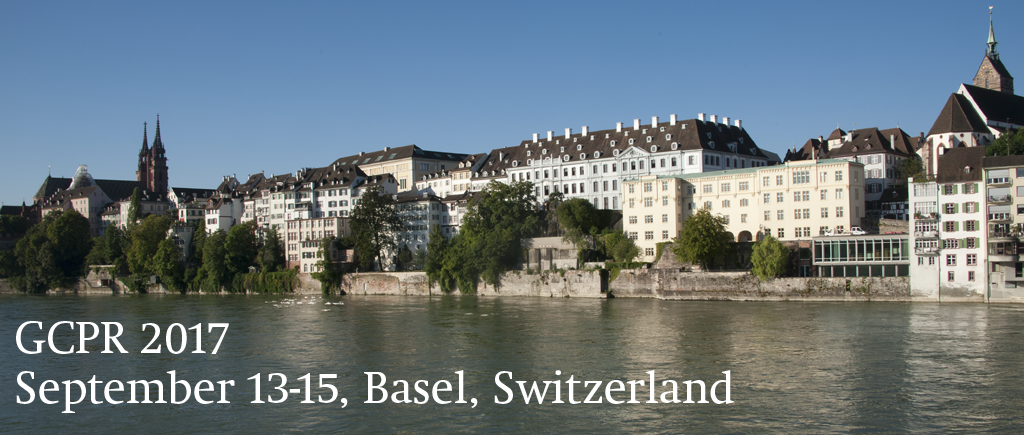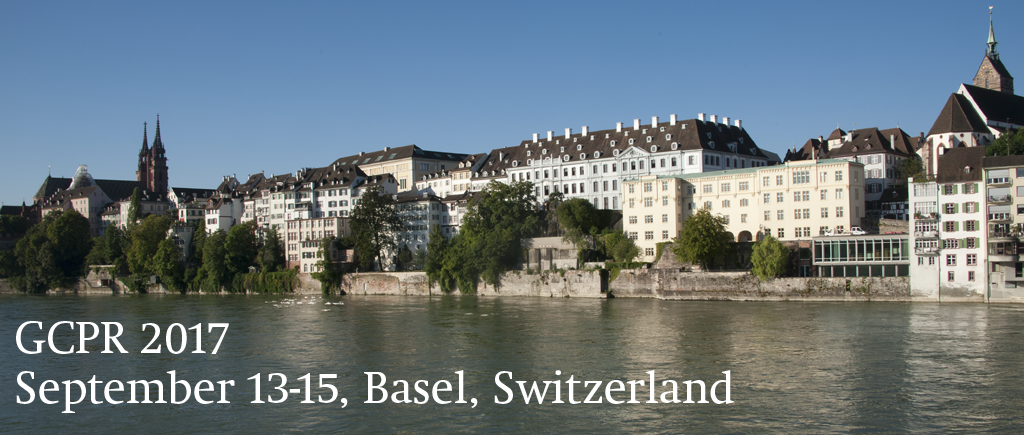 The conference will take place on the campus of the University Hospital Basel, Zentrum für Lehre und Forschung, Hebelstrasse 20, 4031 Basel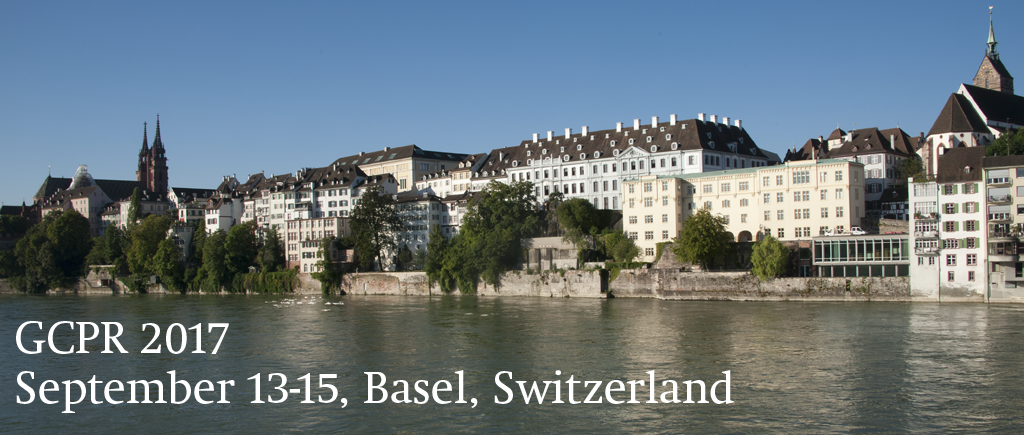 The program of GCPR 2017 will be published soon.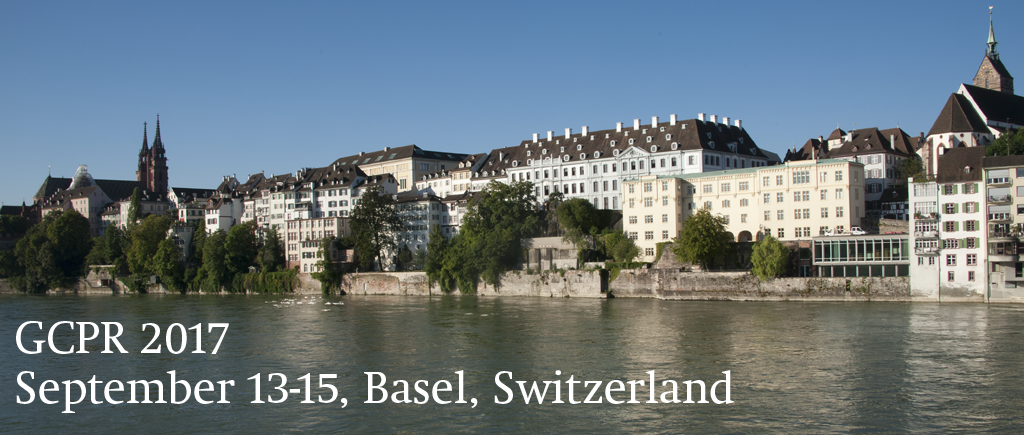 Welcome to GCPR 2017 the 39th German Conference on Pattern Recognition
GCPR is the annual symposium of the German Association for Pattern Recognition (DAGM). It follows the long tradition of the DAGM conference series, which has been renamed to GCPR in 2013 to reflect its increasing internationalization.
Call for Papers
Authors are invited to submit high-quality papers presenting original research. Submitted papers will be reviewed based on the criteria of originality, soundness, empirical evaluation, and presentation. In the long tradition of this conference series, the single track program and poster sessions will provide ample opportunity for open-minded discussion and interaction.
 The scope of GCPR 2017 includes, but is not limited to, the following topics:
Image/video processing, analysis, and computer vision
Machine learning and pattern recognition
Mathematical foundations, statistical data analysis and models
Computational photography and confluence of vision and graphics
Biomedical image processing and analysis
Document analysis
Biometrics
Speech and signal processing
Applications
The paper length is limited to 10 pages (plus references, at most 2 pages). In addition, supplementary materials (.zip or .pdf) can be submitted. All manuscripts will be subject to a double-blind process. The proceedings will be published in the Springer LNCS series.
Chairs
Prof. Dr. Thomas Vetter, Prof. Dr. Volker Roth
PC Members